Marketing your real estate business on local billboards is as hot as the market right now! Are you taking advantage of the NEW affordable digital billboards by Cidewalk near you?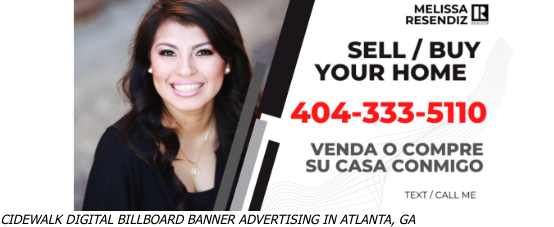 CIDEWALK DIGITAL BILLBOARD BANNER ADVERTISING IN ATLANTA, GA
Cidewalk Digital Billboards are being used by thousands of professionals especially real estate agents all over the US because it's one of the best ways to target the local market.
The BEST part of digital billboards is the flexibility to update the banner message, which is not easily done with other advertising methods. In just minutes the digital billboard can go from promoting a listing to an open house for the weekend.
Billboards already give you the high visibility you need – but here's how to make a billboard that stands out:
-Simple catchy messaging
-A high quality image
-Clear call to action
Cidewalk has made it so easy to get your billboard up in just 2 days:
1. Choose a billboard to display on and upload or create your banner
2. Select the dates you want it to be seen & number of displays
People need to know you exist, get the word out about your business on a billboard near you – simply upload your banner or have our team create a custom banner for you!