Truly try before you buy with our 3-day FREE digital billboard trial! This is a GREAT opportunity to try out our platform and see your business on a digital billboard near you.
WHAT DO YOU GET?
-Your digital billboard will show 30 times in 3 days 100% FREE!
WHAT HAPPENS AFTER THAT?
-If you are not happy with your amazing digital billboard, you can cancel within the trial period to avoid any charges.
-IF YOU ARE HAPPY, which we are pretty confident you WILL be, your monthly subscription will begin giving you 300 MORE ad displays every 30 days for just $250/mo* (cancel anytime!)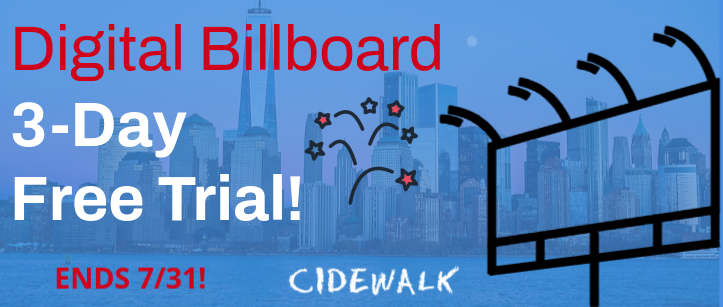 Take a selfie with your billboard and get 20% off one month! So have your camera ready and be on the lookout!
Cidewalk's self-serve ad setup lets you get started in just minutes, and best of all, there's no risk involved, you can cancel your trial anytime. THE 3-DAY FREE TRIAL OFFER EXPIRES JULY 31, 2023. Start your trial here.
Happy Promoting!
Taylor Brady,
Cidewalk GeoFencing & Billboard Expert
www.cidewalk.com
*The 3 day free trial is only available when you choose the $250/mo plan. You can cancel within 3 days to avoid any charges. Our monthly plans have zero contracts, cancel anytime right in your account. All digital billboards must go through a 72 hour review for banner approval. Digital billboards will show on the board you chose at the top of the hour between 6-9am everyday.