This is Maria. She realized she forgot to order the cake for a coworkers retirement party and it was only 1 day away. She needed a cake fast! She did what most people do, she searched online for bakeries near her. 
She clicked on the closest bakery and browsed the website for help. She wasn't sure if this bakery could make a cake with such short notice and needed to find out now – but it looked to be closed for the day so it was too late to call and sending an email could take days to get a reply.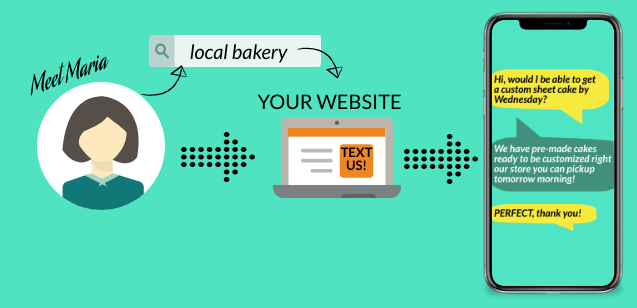 She was about to move on but then she notices a button that says "TEXT US!" – maybe she could reach someone and get the info she needed after all!
She took out her phone and sent a message. The bakery owner received Maria's message right to her phone and replied within minutes. PARTY SAVED! 
This bakery owner uses TXT-Link, a simple messaging service that let's customers reach her when anytime right on her phone. Instead of missing out on a customer, the bakery was able to help Maria before she moved on to another business.
Get TXT-Link for your business today!