​Talkio is not your average business messaging chat widget – it's a better way to talk to your customers. Here are just a couple of ways Talkio stands out:
​-Replies from you go back to your customer on their cell phone so they aren't stuck on a website chat window
-All messages are saved for you and your team to manage in a shared inbox (think: close sales!)
Any business can use Talkio to easily assist existing or new customers when they have a question. No need to get held up taking phone calls all day or lose customers who don't want to wait for an email.
Here is an example of how a bakery used Talkio to easily take an order from a customer: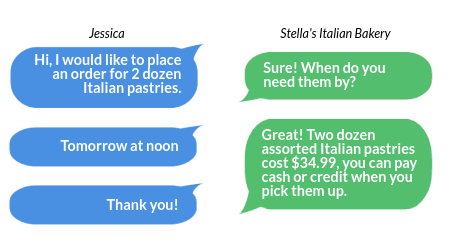 PROMO: Get Talkio FREE for the rest of 2020!