2018 Customer Support:
"Your call is important to us. Please stay on the line, until your call is no longer important to you"
Are you still using the old school customer support system? The system you yourself dread when you call a business?
A customer on hold is a customer lost.
2019 Customer Support:
Connect with your customers when they need you most before they move on to another business! Don't keep your interested customers waiting on phone or email or on your website chat to reach you when they have a quick question.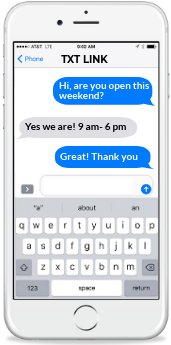 Now you can let your customers reach you, anytime, anywhere, instantly with a text message right to your phone… while keeping your personal phone number private!
Your business only needs to be "Just a Text Away" for your customers.
New from Cidewalk: