The convenience of Simple, No-Hassle Fixed Pricing is only offered with Cidewalk Billboards – All billboards cost the same. There will never be any surprise fees, contracts or long-term commitments from your campaigns, ever. Simply choose your board, create/upload your banner and choose the number of displays or one of our convenient monthly plans and you're all set! You will never pay more for premium locations, every single billboard is the same price, always.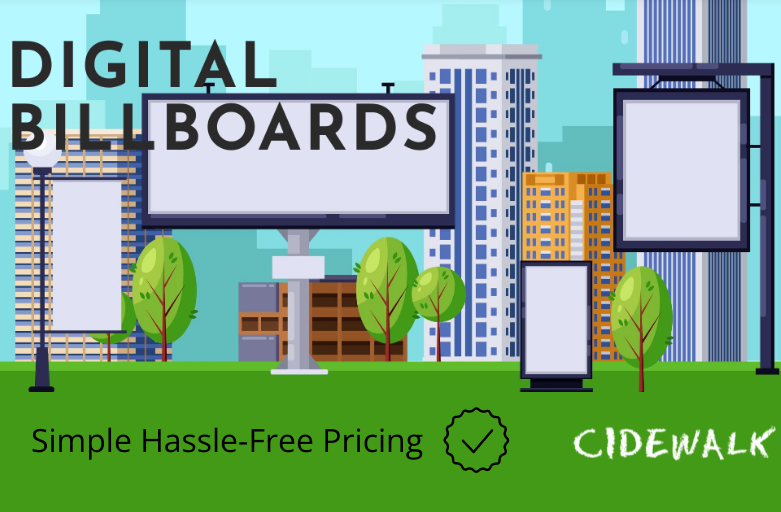 How much does it cost?
Cidewalk has simple, no-hassle fixed pricing. Each "ad play" (when we show your ad) is just $1 at ANY location. Pricing does not change depending on the board. The minimum campaign spend is $250. This will give you 250, 8-10 second ad plays total.
When will it display?
You have 2 options for display: Choose your own dates for when you want your ad to show OR enjoy the convenience of a monthly plan (most popular) so that you can be sure your ad shows consistently each month (cancel any month).
The minimum number of displays for either option is 250. This will ensure you are reaching a good audience. Your ad will display 10 times a day. The times your ad will play is daily at the top of the hour from 8 AM – 6 PM.
SAVINGS BONUS: Monthly and Annual plans give you extra bonus (free) ad plays! All plans have zero contracts, you can cancel any month.
Get started by choosing your billboard location here!