Cidewalk has designed the billboard ad setup to be 100% self service so that you can get started in 10 minutes or less. There's no waiting – create and manage all of your campaigns right in your account – YOU ARE IN CONTROL.
Here's how to get your Billboard:
Choose a billboard location you want your ad to appear on in our map here. You have over 40,000 existing billboard screens to choose from in the US! Enter a city, state or physical address, then zoom into the map to choose a screen. Click on the red billboard icon to get more info, click on street view to see the board in real life, then click "Select this billboard location" to continue.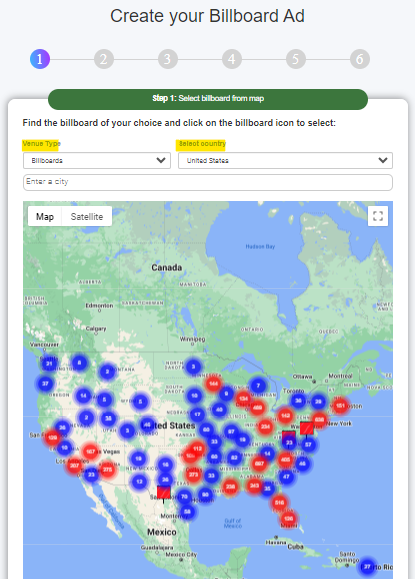 2. Set Category. Choose a category that is the closest to your business or campaign. This step is important for banner approval. Be as accure as possible to avoid any discrepancies when the board owner reviews your billboard banner.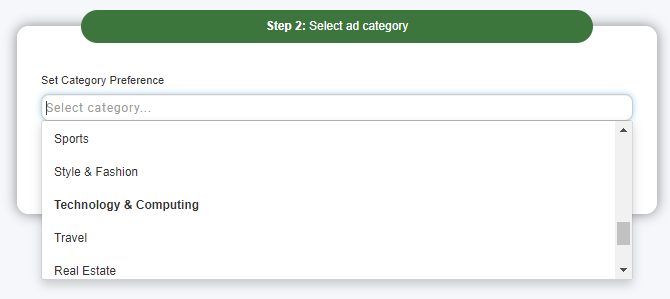 3. Setting up Your Billboard Banner. You have 3 options for creating your billboard banner:
Upload an existing banner (most common size is 1400x400px)
Create one using our ad generator (see step 4)
Request Cidewalk create a banner for you (cost $50 – please allow 3-4 days for banner design).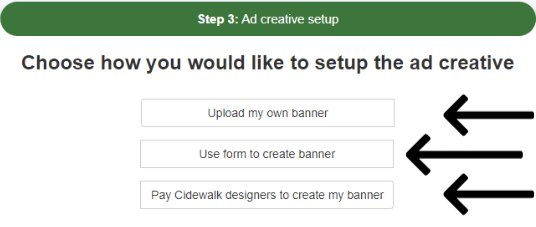 4. Creating your own billboard banner using our form. If you are new to billboard advertising and do not have your own media, we have you covered! You can use our ad generator to create a simple banner. If you have a marketing professional creating one for you, you can use this form in the meantime and email us your banner when it's ready and we will switch it for you on the backend.
First step is to upload a logo or an image you want to feature in the banner: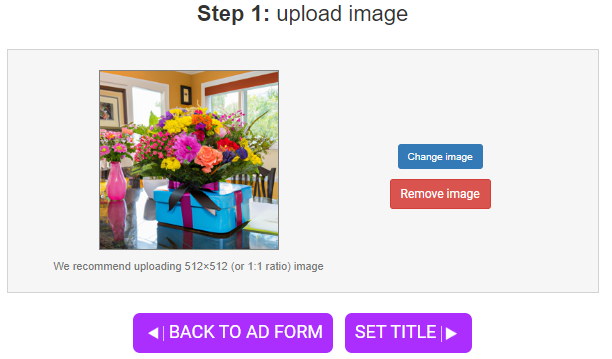 Once you have uploaded the image/logo, you will then add text to your banner. You will start with a title, then a description. We highly recommend you make this text exciting and to the point, you will have limited characters.
5. Enter your business name. This step is also very important for the approval process. Make sure you are entering your business name or your website associated with your banner. If this does not match, your banner may get rejected by the board owner.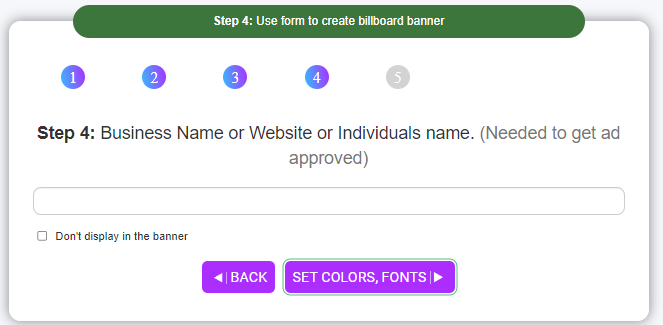 6. (If using the banner generator) the next step will be to customize your banner fonts and colors.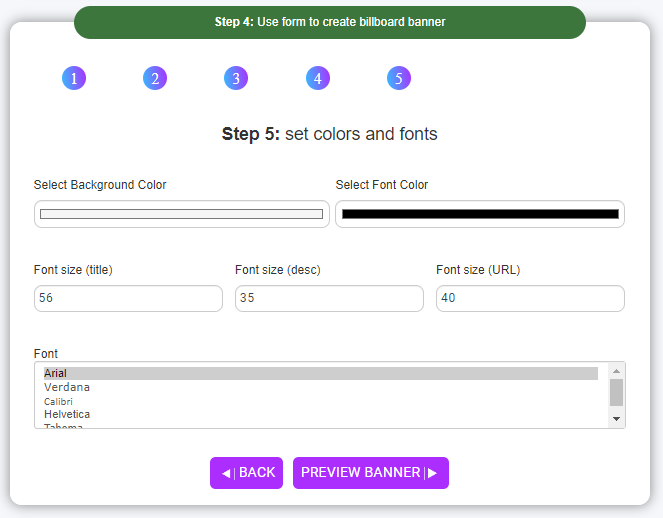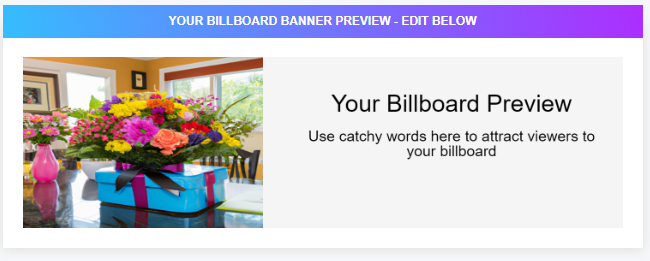 Once you like the design of your billboard banner, go to "Select Campaign Budget".
7. Select Campaign Budget. With Cidewalk you pay per-ad-play. The cost per ad play is $1.
What is an "ad play"? Have you ever seen a digital billboard on the side of the road switch to a different ad after about 8-10 seconds? Each time the ad plays is an "ad play" (well, that's what we call it anyway).
There are 2 main options to choose from: a Monthly Plan or "Set your Own Budget". The minimum spend for either option is $250, which will give you 250 ad plays. The monthly plan has 2 options, Business or Enterprise.
HERE IS WHAT YOU GET WITH THE MONTHLY BUSINESS PLAN ($250):
-250 ad plays every 30 days
-10 ad plays everyday (1 ad play each hour)
-Which hours? Ad plays will start at the top of each hour from 6 AM-8 PM EST (thats 1 ad play every hour).
The monthly plans works just like any other monthly subscriptions, they keep going unless you cancel. There are no contracts, simply cancel before the new month to stop any future charges.
HERE IS WHAT YOU GET WITH THE MONTHLY ENTERPRISE PLAN ($1000):
-1000 ad plays every 30 days
-34 plays everyday (approx 3-4 ad plays an hour)
-Which hours? Ad plays will start at the top of each hour from 6 AM – 8 PM EST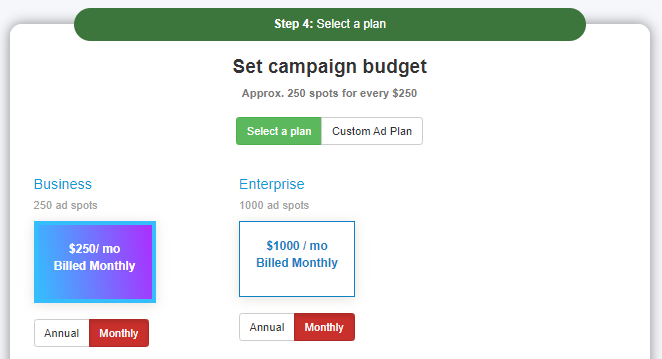 If you would like more ad plays or would like to run your campaign for a particular amount of time (most popular with event based billboard campaigns) you can choose the Custom Ad Plan option.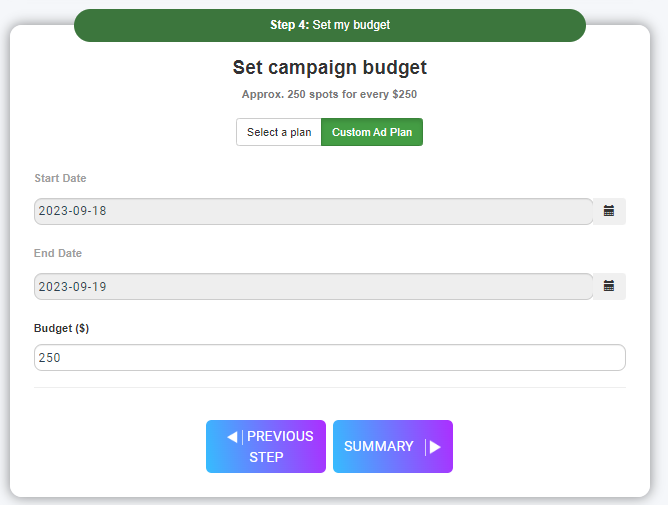 *SAVE BY GOING ANNUAL*
Business Annual plan will save you $50 each month. $800/yr /$1,000
Enterprise Annual plan will save you $2400 each year. $9600/yr /$12,000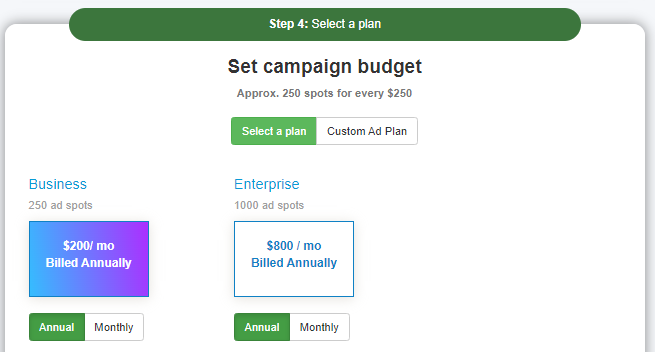 WHAT'S NEXT?
Your ad is sent off for approval to the billboard owner (approval can take up to 3 days).
If your board is not approved, we will contact you via email to choose a different board or help you correct the errors that resulted in non-approval.
Once your board is live, you will start to see stats generated in your Cidewalk dashboard.
VIEWING STATS IN YOUR CIDEWALK DASHBOARD
Login to your account and click on "Ads" in the menu.
Here all of your Cidewalk campaigns will be listed either under "Active", "Scheduled", or "Completed".
Click on any of the campaigns to view the full analytics.
GET STARTED NOW: