We already know that 80% of business comes from existing customers – engaging them with your deals keeps YOUR business on their mind weekly!
But you MUST follow these 3 rules to get the absolute best results from your text marketing campaigns.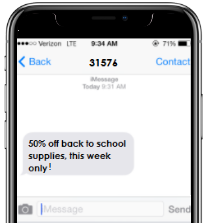 1. Be Consistent. Pick your favorite day to send out an alert and stick with it. Creating a schedule will set your users expectations so that they can look forward to what you have to offer with no surprises.*TIP: Friday's are good days to send sales alerts to weekend shoppers.
2. Feature your Value Prop. Each message you send should answer this basic question, "What's in it for me?" If not, people may lose interest, ignore your messages or even or opt out of receiving them. TIP: People want deals and offers not just general purpose information.
3. Keep it Short. Remember, your message is being received the same as any other text message. Keep your alert simple and to the point. TIP: Keep your messages under 100 characters.
Now that you know the 3 rules for amazing text marketing, you're ready to reserve your business Text Code, and start engaging the people who love your business with Cidewalk's EZ Talk.

RISK FREE TRIAL! FIRST 1000 MESSAGES ARE FREE!